 CORAL BRASILEIRO "CANTA MAIS" | BRAZILIAN CHOIR "CANTA MAIS"
Coral Canta Mais is a new Brazilian choir in Melbourne. The choir will sing a variety of popular Brazilian music from MPB to Samba. Coral Canta Mais aims to celebrate Brazilian culture through music.
Will the songs be in Portuguese?
The choir will be mainly singing in Portuguese, so we will be searching for ways together to express meaning through musical and visual expression.
Who can join?
The choir is open to all Brazilians living here and to those interested to learn more about the culture .
Our conductor:
Carolina Assunção.
When and where are the rehearsals?
Rehearsals will be fortnightly on Thursdays 6:30pm – 8:30pm at the Jenny Florence Room, Ross House, 247 Flinders Lane, Melbourne.
Are there any costs involved?
The 6 month membership fee is $90 for ABRISA members, and $120 for non members.
Will the choir have performances?
The types of presentations we are planning for will be at Abrisa events, multicultural events, shopping centres and schools.
For more information, contact us at projects@abrisa.org.au.
PORTUGUES
Coral Canta Mais é um novo coral brasileiro em Melbourne. O repertório terá uma variedade de músicas populares brasileiras, de MPB a samba. O objetivo do coral é celebrar a cultura brasileira através da música.
As músicas serão em português?
O coral cantará primariamente em português, e por isso eu irei explorar formas de apresentar temas através de expressões musicais e visuais.
Quem poderá participar?
O coral será aberto para todos os brasileiros residentes na região e também para aqueles interessados em aprender mais sobre a nossa cultura.
Sobre a regente
Nossa nova regente e a Carolina Assunção.
Quando e onde serão os ensaios?
Os ensaios serão realizados a cada duas semanas nas quintas-feiras, das 6:30 às 8 no Jenny Florence Room, Ross House, 247 Flinders Lane, Melbourne.
Haverá algum custo?
O custo de participação será de AU$90 para membros da ABRISA e AU$120 para não-membros.
Haverá apresentações do coral?
A princípio estamos planejando apresentações em eventos da ABRISA, em eventos multiculturais e também em shopping centres e escolas.
Para mais informações fale conosco pelo email projects@abrisa.org.au.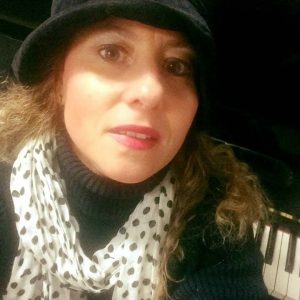 Participe! Registre seu lugar abaixo!  Participate! Reserve your spot in our Choir Now!