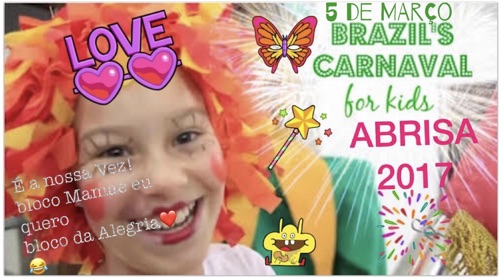 Carnaval das Crianças 2017 – Children's Carnaval 2017
Depois de nosso retorno em 2016, continuamos a celebrar o Carnaval Infantil ABRISA:
CARNAVAL INFANTIL: 1:00pm – 5:00pm
Atraçoes: Facepainting, atividades de crafts com a escolinha de Portugues, Jumping Castle, marchinhas de carnaval e o convidado especial para animar a criançada Mr. Twist The Magician, e a participaçao especial do Coral Canta Mais e muito Popcorn e agua gratuita para a garotada!!
After our return in 2016 we continue to celebrate the ABRISA Children's Carnaval! 
KIDS CARNAVAL PARTY: 1:00pm – 5:00pm
Atractions: Facepainting, arts and craft with the Portuguese School, Jumping Castle, traditional carnaval songs and the special guest to keep the kids entertained: Mr. Twist The Magician.  We also have the special participation of the "Coral Canta Mais" and plenty of Popcorn and free water for the kids!!
SAVE BY PRE-PURCHASING YOUR TICKETS ONLINE HERE!